Recently a group of SCMS had the chance to travel to Korea. While there they had the chance to attend the DITTO Festival (where SCMS favorite Richard O'Neill is the Artistic Director), travel throughout the country, and enjoy some of the amazing cuisine. We asked one of our friends to report from the road and John gave us a glimpse into this musical journey!
"Our intrepid band of hardy travelers left Seattle for a 9 day trip to Korea. We arrived on a Tuesday night after an 11 ½ hour flight, and for the last three days we have seen many palaces, museums, and temples in Seoul and enjoyed some great Korean cuisine.
Korea boasts a very old civilization, and suffered horribly from the devastating consequences of the war in the 1950's, which caused much of the country to be destroyed. The rebuilding effort since then is truly astonishing, and Seoul is a remarkably clean city with much to recommend it. The subway system, for instance, is amazingly clean and efficient.
One of the big draws of this trip is Richard O'Neill's Ditto Chamber Music Oktoberfest here in Seoul. The four of us attended a great concert at the Seoul Arts Center's cavernous auditorium, which seats 2,500, but nonetheless had very good acoustics. In addition to Richard, we also got to hear another SCMS Festival regular, Stefan Jackiw.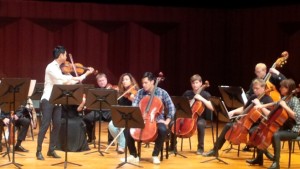 On our fifth day in Korea, we travelled 60 km. north of Seoul to the border with North Korea, to see the demilitarized zone (DMZ), which is a strip of land 2.5 miles wide that stretches 155 miles from one side of the Korean Peninsula to the other. By the end of the day, our heads were spinning because of the bizarre set of contradictory experiences that we had.
First up was a visit to the Joint Security Area (JSA), where American military personnel took us to the actual border, where we could see North Korean sentries. We were admonished frequently to avoid waving or yelling at these sentries, as if a major eruption of gunfire might be the consequence. We then visited one of four tunnels dug by the North Koreans in an effort to sneak into the south undetected. All four were discovered by South Korea and blocked. We watched a quite jingoistic film about these tunnels that suggested that Armageddon was just around the corner.
We then had lunch in an area that contained an amusement park filled with people on holiday, blithely enjoying themselves as if all was normal in the area. Finally, we saw the Doresan railway station, a gorgeous brand new gleaming structure which is the last station in South Korea, but connects to the north. Inside, exhibits wishfully display hopes for a trans-Korean railway, that one day might connect to a trans-Manchurian railway, and then to a trans-Asian railway. The station cries out for reunification of Korea, but seems naive in view of our other experiences in the DMZ.
Perhaps the biggest highlight of this SCMS Korea trip has been the opportunity to get to know Richard O'Neill better. He was genuinely thrilled that four of us made the long trip from Seattle, and he did his best to be a great host! The night after a concert at the Oktoberfest Ditto Festival, he invited us all to his favorite Korean BBQ restaurant in the trendy Seoul neighborhood of Gangnam (as in "Gangnam Style" by the Korean rapper Psy).
On the night of the concert we experienced Seoul traffic at its worse, as it took us 90 minutes for a trip that should only take 15. We thus decided to take the subway to dinner, which put us just a few yards from the restaurant. Richard ordered both plain and marinated wagyu beef, and a waitress cooked it right at our table and skillfully cut it into bite sized pieces. Richard's facility with the Korean language has improved greatly so he directed the meal with great aplomb. He regaled us all with stories about how he has developed the Ditto festival over the last 10 years, and how proud he is of the fifty or more young string players that he has mentored.
The festival is so popular that on most nights the 2500 seat hall is sold out. We noticed that about 75% of the audience was female. He says that the marketing department for his festival has urged him to have all male ensembles, because in Korea this generates enormous female ticket sales. Interesting…….
It was really a treat for all of us to be able to spend a delightful evening with such a luminary; it is very clear that he is a total rock star on the Seoul chamber music scene. It is also very clear, however, that our Seattle festivals mean a great deal to him. Having grown up in Sequim, he has a strong connection to the Northwest."
It sounds like they had a great trip exploring Seoul and other locations in Korea. Seattle Chamber Music Society offers a variety of patron trips and travel experiences, including a trip to New York this spring! Find out more about that trip here.