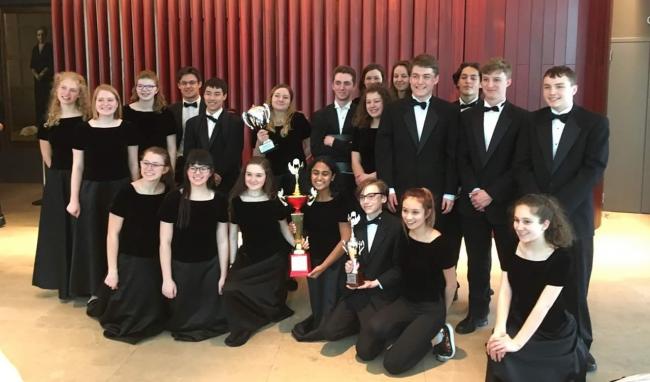 A happy coincidence this winter enabled SCMS and the Ballard High School Chamber Orchestra to collaborate together in a new and meaningful way.
In January, several Ballard students alerted their Orchestra Music Director Brittany Newell that the SCMS Winter Festival program included a performance of Dmitri Shostakovich's String Quartet No. 8 in C minor. The Chamber Orchestra had begun work on an arrangement of that piece, planning to perform it at the National Orchestra Cup in New York City in early March.
Ms. Newell was already in touch with SCMS about our Chamber Music in the Classroom program, which has been bringing professional Teaching Artists to Ballard High School for 10 years. She mentioned to us the coincidence about our programming aligning with her Chamber Orchestra's performance plans, and it sparked several ideas about how we could assist her students.
In addition to coaching students at both the Chamber Orchestra and the String Orchestra on small ensemble performance, SCMS also included a special sectional coaching with our Teaching Artists specifically on the Shostakovich Quartet. Many of the orchestra students, including all of the principal players, were able to attend an Open Rehearsal of the piece, as well as the concert itself.
Lastly, SCMS scheduled a special master class for the Chamber Orchestra with Festival Musician Sæunn Thorsteinsdóttir during the school day. That morning, the Ballard students were a bit in awe as this world-renowned cellist first played along with them and then coached the ensemble through the first movement of the Shostakovich. Sæunn particularly enjoyed "seeing the students take ownership over their interpretation and really start to communicate with each other through the music."
She took the ensemble through a fascinating exploration of the work, with each student humming their part. This enabled them to focus intently on the rhythm and dynamics, rather than on just the notes. It was an eye-opening exercise for many students, and several commented that they realized more clearly where their part fit into the greater whole of the work.
Sæunn, like so many of SCMS's Festival Musicians, is generous with her time and eager to give back to students studying classical music. For her, masterclasses were "very influential in my musical development, so I cherish the opportunities to pass it on!"
The Ballard Chamber Orchestra traveled to New York City in March, and performed at the famed Alice Tully Hall in Lincoln Center as part of the National Orchestra Cup. Their performance of the Shostakovich String Quartet No. 8 earned the title of first runner-up in this prestigious national competition! They were also the only ensemble in the entire competition to perform without a Conductor. SCMS is incredibly proud to have played a role in the success of these students, whose hard work and dedication is an inspiration to all of us. We look forward to continuing to partner with Ballard and the many other Seattle Public Schools with whom we have formed relationships through our Chamber Music in the Classroom program.