Lorna McGhee, principal flute of the Pittsburgh Symphony Orchestra, was our featured artist in the recently printed 2016 Winter Festival brochure. We sadly didn't have enough space to share the full interview and are launching our new blog with more great information about the Winter Festival (January 22-31) and Lorna's background.
Tell us about the pieces you are playing with us this winter:
I will be playing Mozart's C Major Flute Quartet (January 22), Copland's Duo for Flute and Piano and Barber'sCanzone (both January 23). This particular Mozart Quartet does not get played as much as the C major, so the audience will be less familiar with it. It is nevertheless a very joyful and inventive piece. It's in two movements — a bright and breezy allegro followed by a gorgeous theme and variations. (Incidentally Mozart recycled the theme and variations in his 'Gran Partita for 13 instruments'.)
The Copland is one of the staples of the flute repertoire. It dates from 1972 when Copland returned to tonalism. It is in three movements, the last of which is a hoe-down, as you might expect from Copland — full of wonderful cross-rhythms and high energy. The slow middle movement is quite cryptic, and anguished as if trying to find some resolution. The first movement is my favourite as it is so quintessential Copland — opening with a simple lyrical flute line built of 4ths and 5ths and octaves — spacious and innocent and evocative. Somehow, when I play this opening, it makes me think of how it must have felt for European pioneers moving west and seeing the pristine American landscapes for the first time. A sense of awe and wonder.
The Barber Canzone is the composer's own transcription of the second movement of his piano concerto. It is exquisitely delicate and heartfelt and melancholy — somehow profound even in it's transparency.
You are also presenting one of the Pre-Concert Recitals this winter (January 23). Tell us what you've selected. Why this piece?
The Kernis piece, Air is first of all one of my favourite pieces of recent years. It is so great to hear a piece of 'new' music that has so much substance, emotional weight and beauty. It also relates to the Barber and the Copland, in that the musical language has the same lyricism and apparent simplicity. It was inspired in part by the wonderful rhapsodic flights of Hildegard de Bingen's music. She was a catholic mystic who lived in the 12th century. While her counterparts were writing Gregorian Chant with very narrow intervals, Hildegard's music by contrast would have expressive leaps. This lyricism and spaciousness is also why we love Copland and Barber so much.
You have a long history as a chamber musician and as an orchestral musician. How do these different performance styles influence each other in regards to your musicianship?
I think they complement each other. Playing in the wind section of an orchestra is already a form of chamber music. At it's best, orchestral playing is glorified chamber music, with a conductor as a fellow chamber musician who does a lot of leading, but also is capable of responding.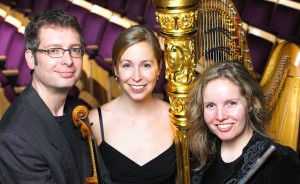 Currently you are the principal flute at the Pittsburgh Symphony Orchestra. How long have you been there and how did you end up going to Pittsburgh?
Yes, I've been in Pittsburgh since 2012. I first auditioned and won the job in 2007, but the timing wasn't right to move from Canada then. It would have meant living apart from my husband, violist David Harding (due to immigration complications). Anyway, the job was open again in 2011 so I auditioned again. Fortunately there was also a viola teaching position open at Carnegie Mellon University, so we both won our positions and could live together in Pittsburgh. Much better!
Most audience members know about the various makers of string instruments; can you talk about the craftsmanship that goes into creating flutes? Can you tell us about the instrument that you play?
Yes– wind instruments are not as glamorous or as romantic as string instruments, in terms of history! However, I do have two beautiful old LouisLot silver flutes made in Paris in the 1870s. These instruments are like the 'Stradivari' of the flute world, and date from the period where silver flutes started to replace wooden flutes, and flutists became interested in trying to replicate the expressiveness of singers. LouisLot flutes often have a depth of resonance and color possibilities that interest me very much. However, the scale (tuning) and mechanism are not so compatible with playing in a modern orchestra. Therefore, I play on a modern body made by the wonderful Japanese company, Altus, combined with one of my LouisLot headjoints to get the best of both worlds!
What do you like to do when not playing the flute?
I love being in nature — hiking, especially in the Pacific Northwest, or Scotland. I love books and I am also very interested in the Alexander Technique. One of my favourite things is to listen or read interviews with authors. I put them on a pedestal — it's so miraculous to create a convincing, transformative work of fiction. How do they do it?
Join us at the 2016 Winter Festival to hear Lorna, and 18 other world class musicians, perform the finest chamber music repertoire in our series of 6 concerts.