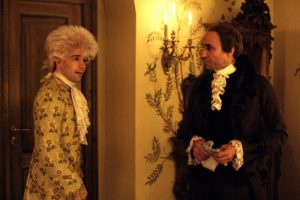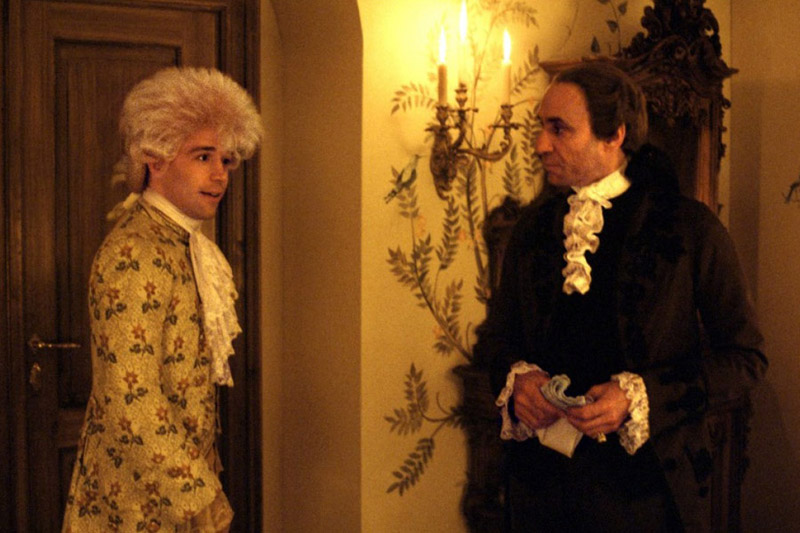 Who has seen Amadeus? One of my favorite scenes is when the young Mozart is pursuing some young ladies and generally making a bit of a fool of himself at an elegant party when he suddenly hears his music (in this case, the incomparable slow movement of his Gran Partita for winds) and is transported by its beauty – as is his arch-rival, Salieri. The depiction of this music as being simple, light entertainment that is oh-so-much-more, is very realistic (if much of the movie is, unfortunately, not).
The Divertimento for String Trio K. 563 (SCMS performance on July 20) is Mozart's only completed work for string trio. It is the last of his 27 Divertimenti, and in contrast to most of them was intended to be a proper concert piece, rather than just simple entertainment to accompany a social function. Written when Mozart was 31, just a few years before his death at 35, he was in the midst of an extremely productive period that had already seen the composition of Don Giovanni, several piano concerti, and his final 3 symphonies. It was premiered in Dresden in 1789, with Mozart playing the viola part. The simplicity of the opening notes – a unison, descending Eb major chord – and the unassuming title give little hint that this is Mozart's longest piece of chamber music, and one of his most inspired creations.
The piece is in six movements, each one a masterpiece. The opening Allegro is followed by a particularly beautiful slow movement, which is then followed by the first of the work's two minuets. The fourth movement, a theme with four variations, is one of my favorite works of all time. The theme could not be simpler, while the variations could not be more creative, inspired, and intricate. It is truly Mozart at his very best. There is then another minuet (with two trios) before the exhilarating and highly virtuosic finale.
It would be impossible for me to pick a favorite work of Mozart, but this would certainly be on my shortlist. Every time I hear it or play it I am astonished and inspired by his towering genius, and his ability to turn something so outwardly unassuming into art of the highest order.