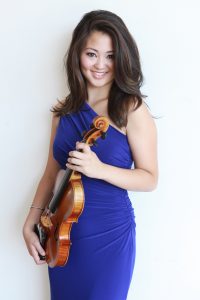 Violinist Simone Porter is returning to SCMS during the 2018 Winter Festival. A native to Seattle, Her first appearance with SCMS was as an Emerging Artist during the 2009 Summer Festival. Since that time, she has performed with the New York and Los Angeles Philharmonics, the Philadelphia Orchestra, and Seattle and Houston Symphonies. The recipient of a 2015 Avery Fisher Career Grant, Ms. Porter is currently enrolled in the Colburn Conservatory of Music in Los Angeles.
We had an opportunity to ask her about her return to Seattle, the pieces she will be playing this coming January, and if she has any advice for other young musicians looking to pursue a performance career.
SCMS: You joined us as an Emerging Artist in 2009, what was that experience like for you?
Simone Porter: Participating in Settle Chamber Music Society in 2009 as an emerging artist was quite the memorable honor! [Founding Artistic Director]Toby Saks' inclusion of me was indicative of her devotion to making SCMS a vital resource in the development of musicians throughout the Seattle community; I feel similarly galvanized by the chance to return as a participant this coming January!
SCMS: Growing up here in Seattle, what does coming home to perform at this Festival mean to you?
SP: The city of Seattle is an ideal host for collaborative musical performances; the uniquely diverse and vibrant artistic community nurtures and inspires the communicative magic. SCMS is really a gem in this landscape, and I eagerly anticipate January when I will have the opportunity to engage with the sophisticated programming and artistic talents that have distinguished SCMS as a vanguard for innovation in classical chamber performance. It will invigorate the joyful experience of returning home to Seattle in fresh and unanticipated ways. The years I've enjoyed attending concerts and the information I've gleaned from observing phenomenal musicians have had an indelible impact on how I experience music; I am grateful to have the opportunity to participate as a performer.
SCMS: Can you tell us a little about these pieces that you'll be playing this January?
SP: I'll be collaborating on works by Korngold (1/19), Haydn (1/20), and Schumann (1/21). All of these are actually new works for me, so I'll approach the music by familiarizing myself with all the parts- lots of score study and listening to recordings so as to hear different perspectives that will shape the way I sculpt my part. I will also probably take advantage of my friend's generosity to read through the works at home in LA before going to Seattle to rehearse.
SCMS: When did you meet James, and when did he invite you to take part in the Festival?
SP: Although I had known of James Ehnes as an international violin master, and have had quite few opportunities to see him perform live over the years, I did not met him personally until we collaborated at an event at the Colburn School of Music in LA back in 2013. His inimitable warmth, and the generosity of spirit with which he engaged with young musicians, combined with otherworldly violinist skills . . . well, let's just say that I view the opportunity to collaborate again, this time on the level of SCMS, as highlight of my season!
SCMS: You're at the beginning of your career but have already had some notable performances with orchestras like the NY and LA philharmonics, among many others. Can you talk about a concert or performance that was a highlight for you?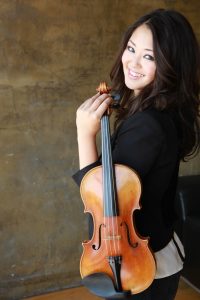 SP: To be honest, I find it impossible to single out a specific concert as especially impactful because each and every one has yielded rich and resonant experiences. Generally, though, I think that the venue matters much less than the synergy among the performers, and how they transmit it to their audience. For me, magic happens when performers align their artistic aims not for the purpose of duplication, but rather for the expression of an inner sympathy that is intrinsic to musical conversation. These types of performances allow for spontaneity that captures authentic collective expression in a way that that few other art forms can.
SCMS: Do you have any advice for young musicians looking to become a professional musician?
SP: I think the best advice I can give to young musicians is to love the process more than the product. To be a musician, to choose any artistic vocation, is to commit oneself to a lifelong endeavor. The goals that we aim for are ideals – artistic enlightenment, technical flawlessness – there's no fixed zenith of musical insight or sublimity of performance.
While at first that may seem like a dispiriting condition, this reality actually fulfills and inspires me. Loving the process also guards against both complacency and discouragement, two pitfalls that can distract from the central objective of music making, which is to bring beauty to this world.
SCMS: How do you balance being in school and having an active performance career? What do you like to do when you have a day off?
SP: I understand balance in terms of integrating my professional, artistic, intellectual, personal and social interests.  Some of this is accomplished by establishing savvy time management schedules!  But many of these interests combine in my number one favorite hobby, reading. From a young age I had a deep appreciation for books' capacity to expose me to life experiences quite distinct from my own, and a sensitivity to how these forms of expression are rich sources for interpreting music and life!  I read a broad range of genres, fictional and nonfictional, graphic novels, memoirs, and they all contribute to the expansion of my perspective.