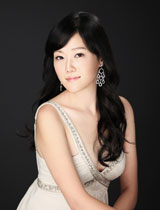 Known for as a soloist, recitalist, and chamber musician, pianist Jeewon Park has been a Festival regular since 2011. Along with her performances, she also she is the co-Artistic Director, along with her husband, Edward Arron, of the Performing Artists in Residence series at the Clark Art Institute in Williamstown, MA. We had a chance to talk about the music of Alban Berg and her performance of his Four Pieces for Clarinet and Piano, which she plays on Friday, July 27.
What is your experience of these four pieces by Berg?
JP: While I have spent quite a lot of time in the wonderful world of Schoenberg, Webern and Berg, this is actually my first time performing this particular work. It is certainly familiar language, and this set of pieces embodies so many of the marvelous traits of the Second Viennese School.
We haven't performed these works very frequently, but they seem very evocative. Can you talk about how he creates such rich pictures in these short little pieces?
JP: He takes a page out of Webern's book in terms of the brevity of these pieces- each one lasts about a minute or so. Within this miniature format, he packs in an unbelievable concentration of expressive gestures, encompassing the wildest imaginable range of characters and colors. One thing I love about Berg is his meticulous craftsmanship, and exacting instructions about tempi, dynamics, articulations, and rubato in order to maximize the expressive nature of his music.
While these are shorter works, they seem to demand great focus and a high level of virtuosity. Does that mean that your preparation is similar as it would be for the Mendelssohn Piano Quartet you are playing on Wednesday? Do you rehearse them differently as you get ready for the performance of these two very different works?
JP: Now that you mention it, there could hardly be a more extremely different pianistic experience than between Mendelssohn and Berg. Mendelssohn's music is expansive and filled with continuous cascades of notes, whereas Berg's music is compact and concentrated in vertical construction. So when I study the Berg, it is as if to look at it under a microscope to extract every little detail from each musical idea. With the Mendelssohn, the music flows out with musical ease, but with relentless physical and emotional demands.