Archives //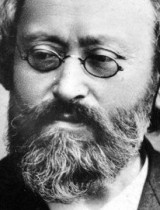 German composer Max Christian Friedrich Bruch (1838-1920) was born in Cologne in 1838 and has the pseudonym Max Karl August Bruch. During his lifetime he wrote over two hundred works, the most well known of which is his Violin Concerto No. 1 in G minor Op. 26 (1866) and has become a staple in violin repertoire. He studied under pianist Ferdinand Hiller.
Bruch moved around the German musical centers settling in Mannheim (1862-64), Koblenz (1865-67), Sondershausen (1867-70), Berlin (1873-78), conductor of the Liverpool Philharmonic Society (1880-83) during which he met his wife Clara Tuczek and finally as a teacher at Berlin Hochschule für Music from 1890 to his retirement in 1910.
His works tend to be complex but well structured and fall into the Romantic Classicism category. During his lifetime he was most known for his works for choir and orchestra the most well known of which are Schön Ellen (1867) and Odysseus (1872). However, he also enjoyed writing for solo instrument and orchestra, two of which are his Scottish Fantasy for Violin and Orchestra and the Kol Nidrei Op 47 for Cello and Orchestra which is subtitled Adagio on Hebrew Melodies for Violincello and Orchestra. This second piece, because of his Hebrew nature, created a rumor that Bruch himself was from Jewish ancestry and while the National Socialist Party was in power his music was banned.
Bruch also wrote many of his instrumental pieces with a particular musician in mind for the performance. When writing for clarinet, he had his son in mind. Of these chamber pieces, the most well known is his Eight Pieces for Clarinet, Viola and Piano.
Near the end of his life, he began to compose for smaller ensembles again with the composition of two string quintets, one of which was the basis for a string octet for four violins, two violas, cello and double bass written in 1920, the same year Bruch passed away.
| | | |
| --- | --- | --- |
| Thursday, January 30, 2014: 7:30 pm Concert | | |
---