Archives //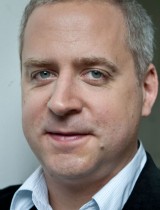 American pianist Jeremy Denk has steadily built a reputation as one of today's most compelling and persuasive artists with an unusually broad repertoire.
He has appeared as soloist with many major orchestras, including the Atlanta, Dallas, Houston, NewWorld, St. Louis, and San Francisco Symphonies, the Philadelphia Orchestra,Orchestra of St. Luke's, Orpheus Chamber Orchestra, and London Philharmonia. Last season he played concertos by Beethoven,Copland, Mozart, Schumann, and Stravinsky, whose Concerto for Piano and WindInstruments he performed under the direction of John Adams, first with theLondon Symphony Orchestra in London and Paris, and then as part of CarnegieHall's City Noir. He appears often in recital in New York,Washington, Boston, and Philadelphia.
During the 2010-11 season Denk releases his first solo recording, Jeremy Denk Plays Ives, on which he plays Charles Ives's PianoSonatas 1 & 2 ("Concord"). He alsoreturns to Carnegie Hall for his second solo recital, in works by Ligeti and Bach,and a concerto appearance, featuring Liszt's First with the PhiladelphiaOrchestra and Charles Dutoit, after performances together in Philadelphia. Further concerto engagements include a U.S.tour with the Moscow State Symphony under Pavel Kogan, and Mozart's "ElviraMadigan" concerto with Peter Oundjian and the Detroit Symphony.
Denk maintains working relationships with a number of living composers and hasparticipated in many premieres, including Jake Heggie's concerto Cut Time, Libby Larsen's Collage: Boogie, Kevin Putz's Alternating Current, and Ned Rorem's The Unquestioned Answer. In 2002, he recorded Tobias Picker's SecondPiano Concerto with the Moscow Philharmonic. He also worked closely with composer Leon Kirchner on many of his recentcompositions, recording his Sonata No. 2 in 2001. His website is http://jeremydenk.net/.
| | | |
| --- | --- | --- |
| Monday, July 7, 2008: 8:00 pm Concert | | |
---
| | | |
| --- | --- | --- |
| Wednesday, July 9, 2008: 7:00 pm Recital | | |
---
| | | |
| --- | --- | --- |
| Wednesday, July 9, 2008: 8:00 pm Concert | | |
---
| | | |
| --- | --- | --- |
| Friday, July 11, 2008: 8:00 pm Concert | | |
---
| | | |
| --- | --- | --- |
| Monday, July 14, 2008: 8:00 pm Concert | | |
---
| | | |
| --- | --- | --- |
| Wednesday, July 16, 2008: 8:00 pm Concert | | |
---
| | | |
| --- | --- | --- |
| Friday, July 18, 2008: 7:00 pm Recital | | |
---
| | | |
| --- | --- | --- |
| Friday, July 18, 2008: 8:00 pm Concert | | |
---
| | | |
| --- | --- | --- |
| Monday, July 21, 2008: 8:00 pm Concert | | |
---
| | | |
| --- | --- | --- |
| Wednesday, July 23, 2008: 7:00 pm Recital | | |
---
| | | |
| --- | --- | --- |
| Wednesday, July 23, 2008: 8:00 pm Concert | | |
---