Violinist Sean Lee, recipient of an Avery Fisher Career Grant, returns to SCMS for the 2019 Winter Festival. He performs a wide range of repertoire, but has spent extensive time with the the Caprices by Italian virtuoso and composer Niccolo Paganini. He has created a series of recordings with them called Paganini POV on YouTube. You can hear him perform selections from this work at the free Pre-Concert Recital on Sunday, January 20. We had a chance to ask him about the Caprices and his connection with this music.
Seattle Chamber Music Society: Beyond the sheer virtuosity of these Caprices by Paganini, what makes them so magnetic for a performer and an audience?
Sean Lee: I find that the answer to your question is as much a mystery to me, as the reason why Mozart's music is so magical! Every time I perform Paganini's music, I feel an electricity in the air, a kind of compelling force. Although I can't quite figure out what it is about his composing that makes this happen, I think part of it carries over from his own stage presence as a performer. There are many accounts describing the way his playing would overcome the listener with imagination, so it's only fitting that he had to write music for himself that was conducive to such expression!
SCMS: These are some of the supreme pieces for a solo violinist and you have spent quite a bit of time with them with your Paganini POV series, and performing them regularly. How has your relationship with them changed as you've continued to play them?
SL: Playing the Paganini Caprices has been a constant source of challenge and intrigue to me for years. I find that as I've performed his music more and recorded the Caprices to share with others, I'm less concerned with displaying technical execution, and more interested in the expression of his music, which is absolutely over-the-top.
SCMS: Can you tell us how the Paganini POV got started, and what has the response been to these recorded performances?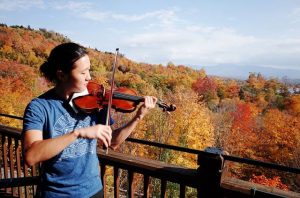 SL: Paganini POV got started because I was practicing the Caprices one morning, which I had been doing for years, simply to develop my own technique. I thought, "Why am I keeping this to myself? These are fantastic pieces and I've had so much knowledge passed down to me–I should share it!" (I had the privilege of studying them with Ruggiero Ricci, who made the first solo recording of them in 1947 and played them all his life.) I thought that sharing it from the violinist's perspective would be enjoyable and helpful to string players, and the use of technology would be in line with Paganini's own spirit of innovation. The response has been a thrill, and receiving comments and questions from people all over the world is an inspiration. Technology really makes some amazing things possible!
We can't wait to hear Sean's interpretations of these electric works, as well as his performances in Beethoven's "Ghost" Piano Trio (1/18), Brahms' Piano Quartet, Op. 25 (1/19), and Shostakovich's Piano Quintet (1/20) during our concert series.