Cellist Edward Arron leads several chamber music festivals, including the Musical Masterworks concert series in Old Lyme, Connecticut, as well as the Festival Series in Beaufort, South Carolina and Chamber Music on Main at the Columbia Museum in Columbia, SC. Edward has been joining SCMS for the past seven seasons and we had the chance to find out why he loves coming to Seattle and what we'll hear him play during the 2016 Winter Festival (January 22-31).

You've been coming to SCMS for the past 7 years, what makes Seattle, and this Festival, such a great place to come and play?
SCMS is truly one of my favorite organizations to be a part of, and Seattle is one of my very favorite cities to visit, rain or shine. There is of course the great food and coffee, the friendly folks, and that breathtaking view of Mt. Rainier as you drive down I-5 on a clear day, but what I love most about Seattle is that its residents treasure the arts, and that it is a sanctuary for creativity and all forms of art, including our beloved art of chamber music.
What I love about the Festival is that it has always been purely and elementally about the music and the musicians, with no other bells, whistles or gimmicks. Each program takes on a life of its own, as well-known masterworks are put together with seldom-heard treasures from the vast chamber music repertory, and are played by dedicated and passionate musicians.
Can you tell us about the pieces that you are playing this winter with us?
I will have the pleasure of playing the monumental Schubert E-flat Trio (January 22), a piece that I listened to over and over as a child, and have always felt very lucky to be able to play over the years. As you listen to the four expansive movements of this piece, you become aware of Schubert's incredible humanity and the wisdom beyond his years. I will also be playing the exquisite Debussy String Quartet (January 23), an example of Debussy's complete and absolute mastery of his compositional craft. It is full of vivid colors and characters, and every note is like a perfect brush stroke on a canvas. And finally, I will be playing a string trio by Krzysztof Penderecki (January 24), composed in 1991. Penderecki's trio is a thrilling and intense dialogue between the intimate combination of violin, viola and cello.
You've led quite a few chamber programs over the years, what is your philosophy when you are putting together a series of concerts? 
My philosophy in making concert programs is to assemble groups of musicians who will have a wonderful chemistry, and to create interesting musical contexts by combining beloved masterpieces with lesser-known gems. Does this sound at all familiar?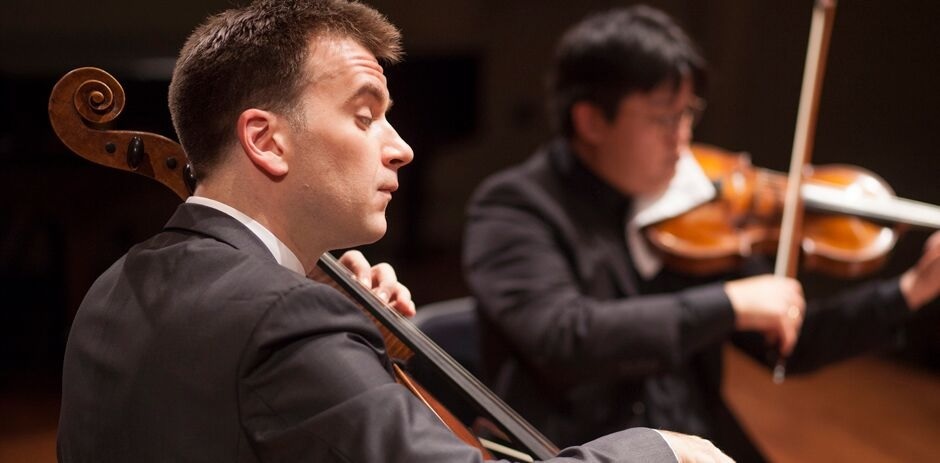 You've had a varied career, but tend to spend a lot of your time playing chamber music. What do you love about playing this style of music? 
The thing that I enjoy most about chamber music is that I can have my own voice, yet I can still share in a musical dialogue with other musicians. Chamber music requires an incredible level of cooperation and flexibility, which in turn generates excitement and inspiration in the moment. And I love that chamber music, by its nature, is constantly bringing together friends, both old and new.
Your wife, Jeewon Park, is also a very talented musician. How do you find a good work/life balance when you are both traveling and performing so frequently? 
Fortunately, we get to play and travel together quite a lot, so through our livelihood, we have gotten to see a lot of the world together while doing the thing we love most. It has become a bit of a juggling act ever since our daughter, Lily- now 2 years old- has joined us. Lily has been to 23 states already, and will be making her third trip to Korea this spring. It can be challenging, but as long as the family is together as much as possible, we are happy.
What would you have done were you not a professional musician? 
Either coffee roasting or beer brewing.
When you have a day off, what is your favorite thing to do? 
Spending the entire day playing with Lily.
Join us at the 2016 Winter Festival to hear Edward, and 18 other world class musicians, perform the finest chamber music repertoire in our series of 6 concerts.