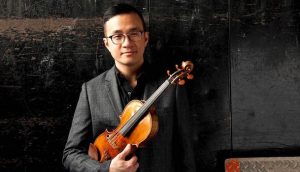 Concertmaster of the Orchestre symphonique de Montréal (OSM), Andrew Wan, has been a regular guest at SCMS since 2010. He spoke with us about the Schumann Piano Quintet he plays on Thursday, July 5, as well as how playing chamber music improves his work as a concertmaster.
What is your experience with this piece by Schumann?
Andrew Wan: This is actually the first piano quintet I'd ever performed!  I play it with some regularity with my quartet, the New Orford String Quartet.  Our most memorable concerts were with the legendary pianist Menahem Pressler a couple of seasons back.
This is one of the most celebrated pieces of chamber music in the repertoire. Does playing a piece that people are often very familiar with provide any different challenges as a performer?
AW: A work like this feels like an old, familiar friend, even with new players that may have never played together before!  I had a particularly wonderful experience with the Schumann playing second violin to Scott Yoo in a group that included Brian Chen, Astrid Schween, and Gloria Chien at SCMS's Winter Festival three years ago.  I definitely put this particular piece in a category where the performers have little difficulty getting excited. It's just so good.  A meaningful work like this also elicits strong opinions and feelings – it's always nice to have the freedom to try new things when the piece is so well-known and when we can depend on the fact that we know how the joints and parts function.
How do chamber music Festivals, like SCMS, make you an even better Concertmaster?
AW: Great question – the obvious answer would be to highlight the comfort with flexibility that comes with familiarity, communication and trust in a chamber music performance.  Porting that over to my work at the OSM, one could argue that the most important quality in a position like the one I hold is malleability.  I love also the fact that I get to see many of these artists as soloists with the OSM often.  Of course James comes all the time and is always fantastic, and Augustin Hadelich had a great debut with us a few weeks ago!  Getting to collaborate with my colleagues in a variety of settings is one of the best perks of my job.