Archives //
Niccolò Paganini //
1782 - 1840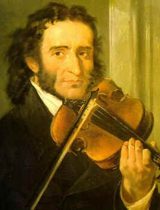 Italian violinist, guitarist, and composer, Niccoló Paganini, was known for his tender and purposeful touch that could transform into a violent force moving listeners to tears. Known for his imaginative nature, he often imitated the sounds of birds and animals in his works as well as expanding the timbre of the instrument. The technically advanced nature of his compositions and his emotionally charged performances led to rumors that he had struck a deal with the devil to reach such virtuosic levels. However, the medical community believes that Paganini suffered from Ehlers-Danlos syndrome, whose symptoms include excessive flexibility of the joints.

Paganini began his music education at age six with his first public performances and compositions beginning at age eight in 1790. In 1795, he travelled to Parma seeking to further his musical studies only to be turned away from the school being told there was nothing they could teach him. He began a self-education process which often had him working and practicing more than fifteen hours in a day. In 1797, Paganini embarked on his first concert tour. Paganini, from 1805 until 1808, filled the role of court solo violinist at Lucca, an appointment given to him by Elisa Bacciocchi, Napoleon's sister, and in 1809 began performing concerts of his own music throughout Italy as an independent musician.

In 1827, Paganini was made a Knight of the Golden Spur by Pope Leo XII. From early 1828 until September 1834, Paganini toured more than 40 cities throughout Europe starting in Vienne and ending Paris.

His compositions included twenty-four caprices for unaccompanied violin which are among some of the most difficult works for the violin. In addition to this, he had twelve sonatas for violin and guitar, six violin concertos, and six quartets for violins, viola, cello, and guitar.

Nicoló Paganini died in 1840 in Nice, France after unsuccessfully trying to open a casino. In 1844, the Church allowed for his body to be transported to Genoa, but was not buried. In 1876, forty-two years after his death, he finally received a burial in Parma.
| | | |
| --- | --- | --- |
| Wednesday, July 12, 2017: 7:00 pm Recital | | |
---