Archives //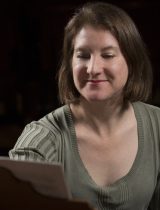 Composer-vocalist Lisa Bielawa is a 2009 Rome Prize winner in Musical Composition. She takes inspiration for her work from literary sources and close artistic collaborations.

Born in San Francisco into a musical family, Lisa Bielawa played the violin and piano, sang, and wrote music from early childhood. She moved to New York two weeks after receiving her B.A. in Literature in 1990 from Yale University, and became an active participant in New York musical life. She began touring as the vocalist with the Philip Glass Ensemble in 1992, and has also premiered and toured works by John Zorn, Anthony Braxton, and Michael Gordon. In 1997 she co-founded the MATA Festival, which celebrates the work of young composers. Bielawa was appointed Artistic Director of the San Francisco Girls Chorus in 2013 and is an artist-in-residence at Grand Central Art Center in Santa Ana, California. In 2016, Bielawa was awarded grants from New York Foundation for the Arts, the MAP Fund, and New Music USA.

Lisa Bielawa is currently at work on Vireo: The Spiritual Biography of a Witch's Accuser, a new opera composed on a libretto by Erik Ehn and directed by Charles Otte, which is being created expressly for episodic release via broadcast and online media.  In spring 2017, KCET will release the entire season of Vireo at once for free, on-demand streaming, which is a first for the network.

Lisa Bielawa's music is frequently performed throughout the US and abroad. Two of her works received their world premieres at the 2016 NY Philharmonic biennial celebration  – My Outstretched Hand by The Knights, San Francisco Girls Chorus, and Brooklyn Youth Chorus and Vireo Caprice by violinist Jennifer Koh at National Sawdust. Recent highlights also include performances of Vireo's opening Forest Scene at the San Francisco Symphony's SoundBox; Ego Sum by the Paul Dresher Ensemble at Cal Performances and Z Space; various works performed by wild Up! at the Grand Central Art Center; Wait premiered by pianist Jon Nakamatsu; Neumark Dances, which opened the American Guild of Organists 2014 National Convention; and Vireo Canons and Chorale, which was commissioned for the finalists of the 2013 American Pianists Awards. In December 2016, the Orlando Philharmonic performed the world premiere of Drama/Self Pity for orchestra and in January 2017, the Kennedy Center presented two of her works with Bielawa as soloist.

Other recent highlights include a performance of The Trojan Women at Le Poisson Rouge, a Radio France commission for Ensemble Variances titled Cri Selon Cri, a residency at John Zorn's The Stone, and the world premieres of Hypermelodia at The Rivers School Conservatory, Rondolette by the string quartet Brooklyn Rider and pianist Bruce Levingston, Double Duet by the Washington Saxophone Quartet (with subsequent performances by the Prism Saxophone Quartet), Graffiti dell'amante by Bielawa with the Chicago Chamber Musicians in Chicago and with Brooklyn Rider in New York and Rome, The Project of Collecting Clouds at Town Hall in Seattle by cellist Joshua Roman and chamber ensemble, Double Violin Concerto and In medias res by the Boston Modern Orchestra Project, The Right Weather by American Composers Orchestra and pianist Andrew Armstrong at Carnegie Hall, and The Lay of the Love and Death at Lincoln Center's Alice Tully Hall.
| | | |
| --- | --- | --- |
| Monday, July 3, 2017: 7:00 pm Recital | | |
---
| | | |
| --- | --- | --- |
| Monday, July 10, 2017: 7:00 pm Recital | | |
---
| | | |
| --- | --- | --- |
| Monday, July 10, 2017: 8:00 pm Concert | | |
---