Archives //
Alexander Velinzon //
Violin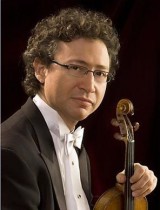 A native of St. Petersburg, violinist Alexander Velinzon was appointed as the Concertmaster of the Seattle Symphony in 2012. Prior to that, he served as an Assistant Concertmaster of the Boston Symphony Orchestra. He has also been invited to play as guest concertmaster with such orchestras as the London Philharmonic, Rotterdam Philharmonic and Seoul Philharmonic among others.
An active performer of chamber music, Mr. Velinzon is a member of the Boston-based Walden Chamber Players and has appeared with the Boston Symphony Chamber Players. Since 2009 he has been a member of the LiveArts string quartet.
Mr. Velinzon began playing the violin at the age of six and graduated from the Leningrad School for Gifted Children. After coming to the United States, he went on to study at The Juilliard School, working under the guidance of the renowned pedagogue Dorothy DeLay. He made his New York recital debut at Carnegie's Weill Recital Hall as a winner of the Artist International Young Artists Auditions, after which Strad Magazine described his playing as "very musical and intensely serious."
In 2010 Alexander Velinzon made his Wigmore Hall debut as part of "London Philharmonic Soloists" series.
Mr. Velinzon is a prizewinner of the Tibor Varga International Competition and Heida Hermann International Competition. He soloed with the National Symphony of Santo Domingo, Jupiter Symphony, Absolute Ensemble, Rondo Chamber Orchestra and Metamorphoses Orchestra in New York.
| | | |
| --- | --- | --- |
| Friday, July 5, 2013: 8:00 pm Concert | | |
---
| | | |
| --- | --- | --- |
| Friday, July 19, 2013: 8:00 pm Concert | | |
---
| | | |
| --- | --- | --- |
| Wednesday, July 24, 2013: 8:00 pm Concert | | |
---
| | | |
| --- | --- | --- |
| Friday, July 26, 2013: 8:00 pm Concert | | |
---