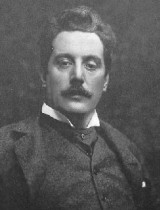 Giacomo Puccini
1858-1924
Italian composer Giacomo Puccini, often considered the greatest composer of Italian Opera after Verdi, also possessed skill in structure, melodic originality, harmonic delicacy, dramatic intuition and orchestral flexibility.

Belonging to the fourth generation of a musical family, Puccini began his musical education after completing his classical studies in 1874 at the Instituo Musicale Pacini in Lucca. His talents were soon recognized and he was sent to study at the conservatory in Milan where he made it his goal to learn all that he could about the art of the coup de théâtre.

He wrote his first opera Le villi, which was rejected on grounds of being illegible when he entered it in the Sonzogno Competition in 1883. The opera was performed in a private performance in the home of Marco Sala and was published by Giulio Ricordi, the rival publisher of Sonzogno.

After the lack of success for Edgar (1889, 1892, 1905) in which themes did not connect and resulted in the opera lacking a true identity, Puccini resolved to always chose the subjects himself and set a dramatic style of the libretto before setting it to music. Manon Lescaut was his first major success, as he adapted symphonic structures to the demand of the action taking the drama beyond the libretto and into the orchestration as well as acting symbolically as a partner to the storyline linking characters, themes and emotions to musical motifs.

Following this was the success of La Bohéme and Tosca. After a hostile boycott of Madama Butterfly (1904), Puccini made a few revisions to strengthen the heroine's entrance, change some of the coloring, and broke the second act into two parts to shorten the time that the audience shared in Butterfly's waiting. Many successes followed as Puccini continued to develop his style and challenge the current operatic forms. He never completed his final opera, Turandot.

Puccini died from a heart attack (a result of an emergency operation on his throat in his battle with cancer) in November 1924 in Brussels.