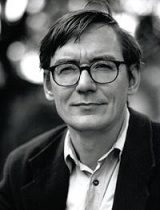 Kalevi Aho
1949-
Showing the influence of Mahler and Shostakovich through dissonance, driving rhythms, and theatrical displays of emotion, Finnish composer Kalevi Aho describes his own compositional style as "aesthetics of resistance". Aho composes with the goal of having the listener experience the music psychologically, experiencing all of the colors and moods incorporated into his postmodern style. He believes that the drama and the challenges he presents to conventional musical expectations it allows the listener to journey through their own crises and find resolve with the aid of his music. Truly, the intent of Aho as a composer is one to provoke emotional interactions between his music and the listener.

Kalevi Aho studied theory and received his diploma from the Sibelius Academy. From 1974 until 1988 he lectured at Helsinki University on musicology until he moved to teach music theory at the Sibelius academy from 1988 to 1993. In 1992 he became Composer-In-Residence at the Lahti Symphony Orchestra. In 1994, Aho was granted a 15 year grant from the Finnish state to pursue life as a composer.

As a composer, Aho's catalogue focuses on orchestral, chamber, and vocal works including four operas, sixteen symphonies, and a wealth of solo and small ensemble selections. A project which sets Aho apart from many other composers, is a concerto project in which he is composing concertos for every instrument in the orchestra, with the most commonly performed being Sieidi (Concerto for Percussion and Orchestra, 2010). Aho has also composed a concerto for Theremin in 2011, Eight Seasons, which was commissioned by the Lapland Chamber Orchestra. Recordings of his horn and theremin concertos won him the ECHO Classic Award in 2015 for best concerto disc of the year. In addition to his own compositions, Aho has made arrangements and orchestrations of other composers with the most notable being the completion of Uuno Klami's ballet Pyörteitä (Whirls) for which he composed the third act and orchestrated the first. Aho's literary output rivals his compositional output with more than 500 essays, presentations, columns, and other writings.