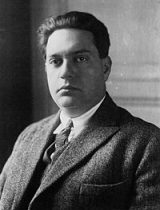 Darius Milhaud
1898-1974
Darius Milhaud, a Jewish composer, was born in Aix-en-Provence, France, the son of Gabriel Milhaud, an almond importer, and Sophie Allatini Milhaud. Sophie Milhaud had studied voice before her marriage, and both parents were music enthusiasts. Young Darius was an accomplished pianist by the age of four, and he began violin studies several years later. During his youth he played often with his parents and also performed in a local string quartet. He decided on a career in music early on.

After graduation in 1909 from a local preparatory school in Aix, Milhaud went to Paris to study at the National Conservatory of Music, where his teachers included the composer Paul Dukas. Milhaud gloried in the numerous cultural attractions of the French capital and became friendly with many leading musical figures of the day, among them the composer Claude Debussy. Initially intending to become a violinist, Milhaud decided instead to focus on composition, and his earliest works reflect Debussy's influence. One of them, a sonata for two violins and piano, was awarded a major conservatory prize in 1915. Beginning in 1916 with his vocal work Poèmes Juifs (Jewish poems), Milhaud drew from time to time on his religious and cultural heritage, an influence also evidenced in such works as Six chants populaires Hebraïques (Six popular Hebrew songs, 1925) and Couronne de gloire (Crown of glory, 1940), a musical setting of prayers from the Comtadin liturgy.

Among Milhaud's friends in Paris was the Catholic poet, playwright, and diplomat Paul Claudel, and in 1914 Milhaud was engaged by Claudel to write an accompaniment for his adaptation of Aeschylus's The Libation Bearers. Two years later, as France remained embroiled in the world war, Claudel was appointed French minister to Brazil, and early in 1917 Milhaud accompanied him to Rio de Janeiro as an attaché. Milhaud became enthralled by Brazilian popular music, and a number of his subsequent compositions reflected its influence, among them Saudades do Brasil (Longings for Brazil, 1920-1921), arrangements of twelve Brazilian dances.

Returning to Paris after the war, Milhaud became friendly with members of the prominent avant-garde movement Le Groupe des Six (the Group of Six), which rejected prewar impressionism in music, theater, painting, and dance. Its founders included the composers Erik Satie and Francis Poulenc and the poet Jean Cocteau.

In the years following World War I, Milhaud continued his earlier collaboration with Claudel, writing music for adaptations of additional Greek dramas and for several ballets that reflected Brazilian influences. Hearing American jazz for the first time during visits to London and New York, Milhaud began incorporating that genre into his music, beginning with the shimmy Caramel mou (Bonbon, 1920). He reached back to the roots of jazz for his 1923 ballet La Création du monde (The Creation of the world), inspired by African folktales.

Between the wars Milhaud turned his attention to opera, and his accomplishments in this genre were ranked highly by contemporary music critics as well as such fellow composers as Aaron Copland. Among the best known is Le pauvre matelot (The poor sailor, 1927), the tragic story of a woman who mistakenly murders her seafaring husband. With a libretto written by Cocteau, it became one of Milhaud's most popular works and was performed throughout Europe and the United States.

Beginning in the 1920s Milhaud made a number of visits to the United States to lecture and conduct his music. However, worsening rheumatoid arthritis combined with a corpulent build made travel increasingly difficult for him by the late 1930s. For the rest of his life he was often confined to a wheelchair and was able to move about only with the use of canes. Shortly after the fall of Paris to the Nazis in June 1940, Milhaud escaped to Lisbon, and from there he migrated to the United States with his wife and son. Accepting an offer from Mills College, a woman's school in Oakland, California, Milhaud and his family settled on the West Coast, where he taught classes in composition for more than three decades. From 1947 until his death he also served as professor of composition at the National Conservatory in Paris.

Milhaud's musical activities during the 1950s included the composition of his opera David, commissioned by the state of Israel to commemorate the three thousandth anniversary of the founding of Jerusalem; he conducted its premiere there in 1954.

Milhaud died in Geneva, Switzerland.