Archives //
Johann Strauss II //
1825 - 1899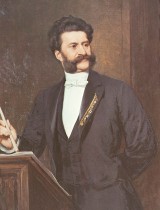 Born in Vienna to Johann Strauss the Elder, Johann Strauss II (also known as Johann the Younger), continued his father's musical dynasty by composing more than 500 musical composition which included 150 waltzes, surpassing his father's productivity and popularity gaining him the nickname of "the Waltz King" with An der schönen blauen Donau (The Blue Danube) being his defining work published in 1867.

Strauss II attended the Schottengymnasium where he studied from 1837-41. At the insistence of his father, he began studying in the Commercial Studies Department of the Polytechnic Institute where he was awarded "First with Distinction" in his bookkeeping exam. His father wanted a different life for his son and he urged him to take up a different career. Strauss II, fulfilling his father's wishes by becoming a bank clerk, defied his father by studying the violin, harmony, and counterpoint in secret with members of his father's orchestra with the approval of his mother.

At the age of eighteen, Strauss II found himself competing with his estranged father when he formed his own orchestra and began composing. In 1845, he was awarded the honorary bandmaster position of the 2nd Vienna Citizens' Regiment. In 1847, Strauss II began composing for the Vienna Men's Choral Association.

In 1862, Strauss II married singer Henriette "Jetty" Treffz. In 1863 he was granted the title of k.k. Hofballmusik-Direktor in succession of his father. Strauss II would mostly abandon conducting, giving his two orchestras to his brothers, instead focusing on composing (specifically Viennese waltz and Viennese operetta). In 1874, he premiered his most famous operetta Die Fledermaus.

Strauss II developed a respiratory illness became that turned into pneumonia and he died in June 1899.
| | | |
| --- | --- | --- |
| Wednesday, July 6, 2016: 8:00 pm Concert | | |
---