Archives //
Francis Poulenc //
1899 - 1963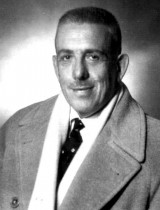 French composer and pianist Francis Poulenc is known for his perfection of melody, his aptitude for textual application, use of diatonic elements, and an eclectic and personal musical style which incorporates wit, elegance, emotional depth, and a mirroring of his own manic depressive tendencies. Musical influences were Viñes, Satie, and Stravinsky. Throughout his life, Poulenc suffered inner turmoil as he struggled with self-identity, the deaths of cherished individuals, and bouts of severe depression - all of which can be seen throughout his compositional catalogue and surviving letters.

Poulenc was born into a family whose wealth and high social standing was acquired through pharmaceuticals. He was introduced to the piano at the age of five under the direction of his mother. Soon after, his musical aptitude was recognized and he began study at Lycée Condorcet under the condition that he would be allowed entrance to the Conservatoire, however the deaths of both his parents and the war disrupted his plans. From 1914 to 1917, Poulenc studied under Ricardo Viñes, who greatly influenced the direction of Poulenc's career as both a pianist and, importantly, composer as it was through him Poulenc was able to meet fellow musicians Auric, Satie and Falla as well as many poets, becoming familiar with their works and finding influence and inspiration within them.

Poulenc destroyed his earliest compositions, but made his public debut in Paris with his "first work" in 1917 with Rapsodie négre, dedicating the performance to Satie. From 1918 to 1921, Poulenc served in the military; however he did not let this halt or hinder his compositional efforts, having composed Trois mouvements perpétuels and Le bestiaire while there. The performances of these pieces were programmed alongside compositions by Milhaud, Auric, Honegger, Tailleferre and Durey, which, combined with Poulenc, led to the formation of Les Six in 1920, a group not defined by similar compositional styles but rather strong friendship and support.

In 1921, Poulenc resumed his studies and received his first commission for a ballet, Les biches. The 1930's brought about the creation of Poulenc's first religious compositions when he met the baritone Pierre Bernac. This period of Poulenc's career was divided into alternating periods of composition and performing, with him spending the majority of World War II in the German occupation of Noizay where he composed Les animaux modéles which was first performed at the Paris Opéra in 1942 and Figure humaine. His first opera, Les mamelles de Tirésias was premiered in 1947 at Opéra- Comique. In 1948, Poulenc made his first U.S. appearance with a concert tour and returned to the country regularly for the following twelve years to give concerts. During the 1950's, notable compositions include Dialogues de Carmélites, a commission by La Scala in Milan, and La voix humaine. Poulenc passed away in 1963 from a sudden heart attack while in his apartment in Paris.
| | | |
| --- | --- | --- |
| Wednesday, July 22, 2015: 8:00 pm Concert | | |
---