Archives //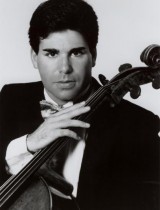 A champion of contemporary music, cellist William DeRosa has performed internationally with numerous orchestras including the Los Angeles and Florida Philharmonics; the Symphony Orchestras of Milwaukee, Utah and San Francisco; and the Los Angeles Chamber Orchestra. He has also performed with the Artis, Emerson and Cleveland quartets and has appeared in the Aspen, Marlboro and many European festivals. DeRosa has regularly performed on the National Public Radio and has been the subject of documentaries and television specials broadcast on PBS and CBS. DeRosa has performed in virtually all of Japan's major music venues, Taiwan's National Concert Hall with the Central Philharmonic in Beijing and the Shanghai Symphony.
Recordings of DeRosa can be found under the EMI Classics and Audiofon Records labels. Collections include a disk of sonatas for cello and piano with pianist Li Jian, a Shostakovich concerto with the Ekaterninburg Philharmonic Orchestra, an album of short works for cello and piano, and the chamber music of Rachmaninoff.
Born into a family of musicians, DeRosa began his musical studies with Eleanor Schoenfeld in Los Angeles and attended Julliard School where he studied with Leonard Rose and Lynn Harrell. In 1980, DeRosa joined Yefim Bronfman, Cho-Liang Lin and Joseph Swenson in performing a sold-out concert at Carnegie Hall celebrating the 60th birthday of Maestro Stern.
DeRosa performs on a rare and pristine cello crafted by Dominico Montangana, Venice 1739.
| | | |
| --- | --- | --- |
| Monday, July 28, 2014: 8:00 pm Concert | | |
---
| | | |
| --- | --- | --- |
| Friday, August 1, 2014: 8:00 pm Concert | | |
---
| | | |
| --- | --- | --- |
| Saturday, August 2, 2014: 8:00 pm Concert | | |
---