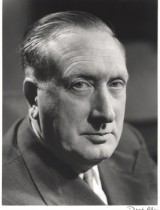 William Walton
1902-1983
Born in 1902, English composer William Walton is best known for his orchestral and vocal music. He was the second of four children to a father who was a choir master and a mother who was a contralto. In 1912, Walton received a scholarship to become chorister at Christ Church Cathedral, Oxford where he remained for six years singing treble solos and studying the piano and violin.

Walton met the Sitwell family while at Oxford and he lived with them for over a decade. With the financial support of the family, he was able to live free from want, spending his time composing and pursuing a cultural education. In 1920, Walton took a trip to Italy with the Sitwells and found the inspiration and environment leading to his first important work Façade.

During the 1930's, Walton began composing film scores to further his financial security including the score for Laurence Olivier's adaptation of Shakespeare's Henry V (1943-44). While in Buenos Aires attending a conference of the Performing Rights Society, Walton met Susana Gil Passo. The two were wed in a civil ceremony in December of 1948 with a formal Catholic ceremony in January the following year.

After a long seven year struggle, Walton and librettist Christopher Hassell premiered their opera Toilus and Cressida at Covent Garden in 1954. Despite other successful productions of the show, its failure at La Scala shattered Walton's confidence and the opera continued to undergo revisions for many years.

As Walton aged, his compositional output slowed. This slowing is due partly to the lack of success of his opera as well as his failing health. While not having graduated from Oxford with a bachelors degree, Walton was awarded seven honorary doctorate degrees including one from Oxford.