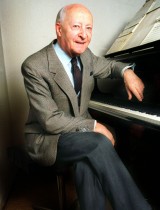 Witold Lutosławski
1913-1994
Witold Lutosławski, born in Warsaw in 1913, began his piano studies at the age of six and his studies of theory and composition in 1928 at the Warsaw Conservatory. Also studying mathematics from 1931 to 1933, Lutosławski graduated from the Warsaw Conservatory in 1932; however he continued his studies of composition and piano and received diplomas in piano performance in 1936 and composition in 1937.

His official composing debut was in 1938 with Symphonic Variations / Wariacje symfoniczne. During World War II, his artistic career suffered as he spent the occupation of Warsaw playing piano in cafes. Variations on a Theme of Paganini for two pianos (1941) is the only surviving work from this period.

Married in 1946, Lutosławski settled permanently with his bride in Warsaw where he was on the Polish Composer's Union Board of Directors and a co-organizer of the Warsaw Autumn International Festival of Contemporary Music which debuted in 1956. Lutosławski participated in compositional workshops at the Berkshire Music Center (1962), the Summer School of Music in Darlington (1963-64), the Royal Swedish Academy of Music in Stockholm (1966), and the University of Austin (1966). Lutosławski, while giving lectures at many universities, never accepted a permanent teaching position in a music academy.

The four large periods of his works are the early neo-classical period, a Polish folklore period, a dodecaphonic period using the serial technique, and his fourth period which challenged rhythmic structure while maintaining strict organization of dynamic levels. Notable pieces from the early neo-classical period include Symphonic Variations (1938), Symphony No. 1 (1947), and Overture for strings (1949). A fascination of Polish folklore can be seen in his Little Suite (1950) and Concerto for Orchestra (1954). Use of the serial technique during his dodecaphonic period can be seen in a setting of Kazimiera Illakowiczowna's texts Five Songs (1957) as well as Musique Funebre (1958). His fourth period began in about 1967 with his Symphony No. 2 and Livre pour Orchestre (1968) and continued to evolve as he developed his own style which is known for interlocking themes which create a "chain" structure most evident in Łańcuch / Chain.

Lutosławski died in February 1994 following complications from a surgery and a long battle with liver cancer.